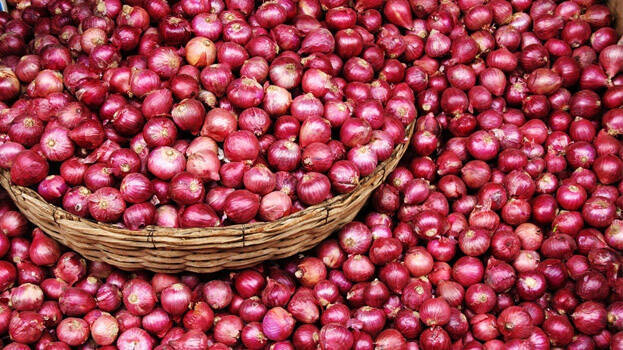 The price of onion has surpassed Rs 100/kg mark, brining tears to the eyes of common man. Once Maharashtra gets two days' copious rain, soon the price of Onion will start rising.
This is a phenomenon that is going to be repeated every year without fail. Though the storage system in the country has expanded, if the distribution chain breaks at any point, there will be a sudden spurt in the price like this. Hoarding of onions stocks, eying big profit is said to be the main reason for price hike.
Onion which was being sold for Rs 25 per kg suddenly became Rs 100 per kg.
For small onion the price was between Rs 60 to 70 per kg and now it has become more than Rs 120 per kg.
It is a good thing that the government has decided to buy onions from Maharashtra through Horticorp and distribute it in Kerala.
In the first phase, 75 tonnes of onions will be brought to the state by Horticorp and sold to customers through its outlets at a price of Rs 45 per kg. Horticorp will procure 200 tonnes of onions from NAFED as part of its market intervention to check the price rise.
Onion prices had hit the roof across the country after the excess rain damaged the crop and produce in central India, especially in Maharashtra where prices touched Rs 70-80 per kg in the wholesale markets in Nashik.
Around 100 tonnes of onions will be brought from Maharashtra to stabilize the price. NAFED has been importing onions from countries like Iran and Egypt to meet the domestic demand.
The Agriculture minister himself has disclosed this but he should make sure that the procedures don't get caught in red tapes.
Rise in the prices of essential commodities during Covid times went unnoticed. People were not much bothered about the price hike as they were relieved to find that there was no shortage of stocks. But the prices hiked never came down.
Another problem is the slow-paced functioning of government agencies at the time of crisis. This will result in the rise of prices. We can't say that the functioning of Civil Supplies, which was started to protect customers from exploitation of the market, is satisfactory. People are also not interested in it now as there is no much differences in prices.
The change that has happened in our food styles has created a situation in which we are not able to skip certain things from our daily food items.
Now as the onion price has risen, we can only reduce the quantity of its intake but still we won't be able to avoid it completely.
If the government makes an effective interference in markets they can keep onion price hike at bay to some extent.