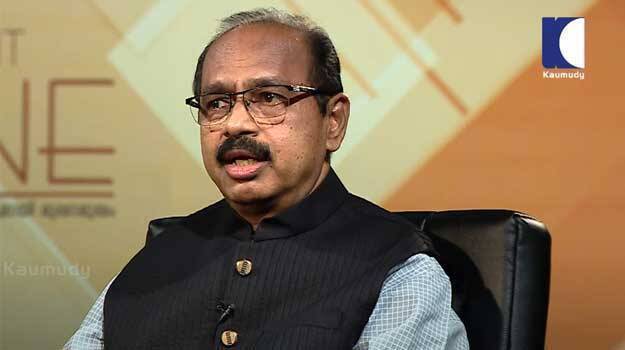 THIRUVANANTHAPURAM: Finally the state is set for local boy polls in Kerala. In the midst of the fearful situation created by the pandemic, state election commissioner, V Bhaskaran talks about the most important things to be followed and observed by both voters and candidates for the smooth functioning of the poll process in an interview with Keralakaumudi.

Is the poll panel prepared for the elections at the time of pandemic?
All pre-poll arrangements have been put in place. Updation of voters list is also completed. As per the new voter's list, there are 2,76,56,579 voters in Kerala.
The polls are going to conducted in three phases, is it due to covid 19?
Yes, that's the only reason. As it is a unique situation, such an arrangement was made for the convenience of poll officials and police personnel.
Poll panel has put in place arrangements even for Covid 19 patients. Can you elaborate on the facilities available to them?
We have arranged postal vote for that purpose. A special application should be filed for postal vote. The application for a postal vote should be given three days before voting day. The application should be filed before the returning officer and it should be done by the voter himself.
What categories of people can exercise portal vote?
Covid 19 patients, senior citizens, those in quarantine and poll officials have the permission to exercise postal votes.
If a voter turns positive for covid 19, will poll officials cancel his chance to vote?
Rules on that matter are currently being made. Therefore I cannot comment on the issue.
What are the precautions instituted by the commission in the polling stations?
Social distance must be maintained, masks should be worn and hands should be sanitised before entering the polling station. An official will be posted in each polling station in order to ensure that people are following these norms. At a time, only three people will be allowed to enter the voting hall. Face shield, masks, sanitizers and gloves would be made available to the polling officials.
Are there any restrictions on senior citizens?
There are no restrictions on senior citizens and the poll panel has also given special consideration to them. Special facilities have been provided to them to immediately vote and leave the polling stations. These facilities would be also available to pregnant women.
How many persons can accompany a candidate while campaigning?
For visiting voters homes, five persons can accompany a candidate. They are not allowed to enter voters' home.
How many officials are appointed for election duty?
About 2,25,000 officials have been appointed for election duty
What does the poll panel want to say to the voters?
Election commission would like to urge all voters in the state that nobody should abstain from exercising voting rights out of the fear of pandemic. To strengthen our democracy and to continue our populist regimes everybody should vote.