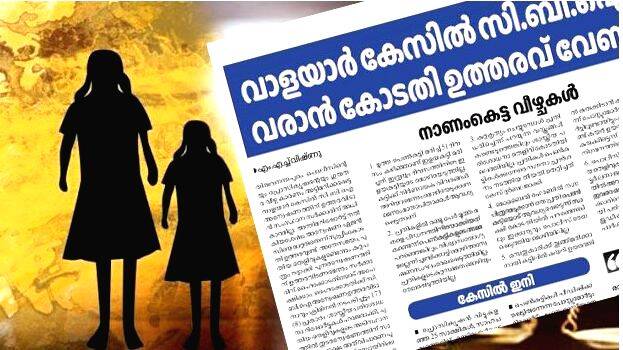 THIRUVANANTHAPURAM: In the mysterious death of the sisters in Walayar, the state government has corrected the mistake in the decision which would have been a loophole for the accused. The new decision is to approach the High Court after realizing the possibility of the accused raising a legal issue in the government's direct notification for a CBI probe without going to court.
On Monday, Chief Minister Pinarayi Vijayan directed the Home Secretary to issue a notification to the CBI probe into the case where underage Dalit sisters were abused and found hanging under mysterious circumstances. One week ago, when the High Court ordered a retrial in the case, Kerala Kaumudi had pointed out that the government does not have the power to hand over the case to the CBI on its own and should approach the court for that.
Later, the law department examined the draft notification of the Home Department which had handed over the probe to the CBI and decided that the action was not lawful, after which the government decided to go through the court itself. The trial in the Valayar case was canceled by the high court. Even if the prosecutor appeals for further investigation, the Palakkad Sessions Court, which is the trial court, can only order further investigation by the police. The petition seeking CBI should be referred to the High Court.
If the government issues a notification illegally, the Union Ministry of Personnel and the CBI may not accept it. Earlier, the high court had quashed the sessions court's order for a CBI probe into the Palakkad shooting case, saying it was beyond its jurisdiction. Only the High Courts and the Supreme Court have the power to order a CBI inquiry.
Earlier, the CBI counsel had informed the High Court that it was a legal procedure to file an appeal in the Walayar case and seek further inquiry. The government also took this into account.
Government and the Court
The CBI has not taken up many of the cases for which the government has notified an inquiry. The CBI has no legal obligation to comply with the notification.
The High Court may order further investigation under Section 173 (8) of the Criminal Procedure Code if the Government declares that there is no point in further investigation by police. Subsequently, the CBI has to take over.
The High Court may not object to the CBI probe in the Walayar case, as it has already criticized that the investigation was flawed and that the trial was a farce and that the acquittal was not due to lack of evidence but due to the lapse of those who conducted the trial.
The High Court had directed the trial court to consider the prosecution's application for further investigation.