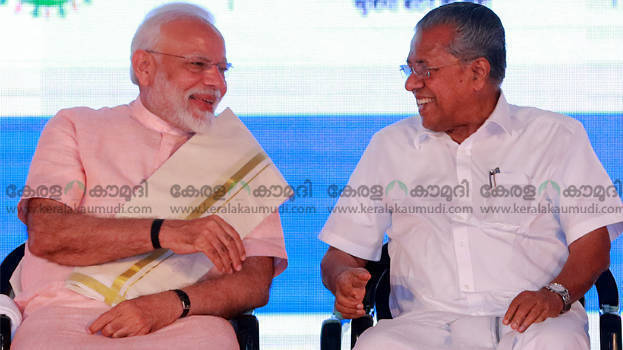 NEW DELHI: Chief Minister Pinarayi Vijayan on Saturday met Prime Minister Narendra Modi in New Delhi. He apprised the prime minister of the State's requirements for development activities.

At the same time, he also expressed his disapproval over the privatisation of the airport, as part of which the airport would be handed over to Adani.

The chief minister submitted to the prime minister a comprehensive memorandum, in which various needs of the State are mentioned. He reportedly convinced the prime minister of the paradoxes in handing over the airport to Adani even when the State government is going ahead with its development activities.

Pinarayi told Modi that the State was yet to receive the financial aid it had asked for and emphasised on the need of the Central aid for rebuilding Kerala.

The chief minister brought to the prime minister's notice the current monsoon weather conditions that were hampering the national highway development projects. He hinted at the dissatisfaction of the State over removing Kerala from the priority list of National highway development.

The chief minister is also said to have requested to the prime minister not to neglect Kerala during the first budget of the Second Modi government. He suggested various projects in Agriculture and urban/rural development for Kerala to the Union government. Later, he visited Union Surface Transport Minister Nithin Gadkari.