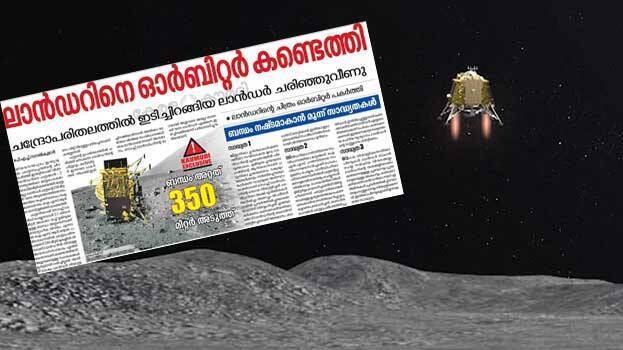 THIRUVANANTHAPURAM: ISRO chairman K Sivan on Sunday confirmed Kerala Kaumudi's news which pointed out that the lost Vikram, Chandrayaan 2 lander, has been located. It was Kerala Kaumudi which first published the news with all the related details on its first page (8th Sep 2019) before other leading dailies. Following that, the ISRO chairman confirmed the news that the lander has been located on the lunar surface using the thermal image obtained from the orbiter.
The orbiter had traced the picture showing the Vikram lander lying in a slanted position on the Moon's surface. It is believed that communication with the lander was lost due to the impact caused while crash landing. However, scientists are yet to find how the lander has managed to crash land on the surface despite going down at a slow speed.
Earlier, scientists had found out that the communication with the lander was lost just 350 metres away from the lunar surface.
Click the below link to see the Kerala Kaumudi news: