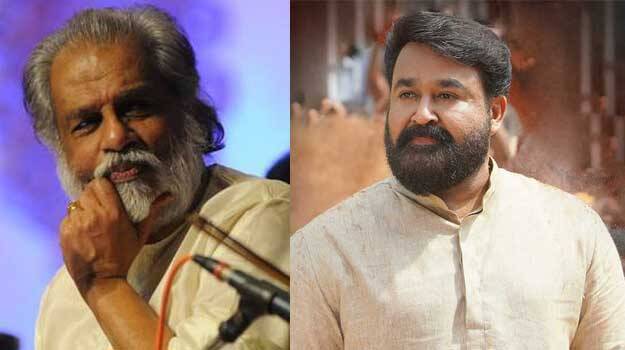 It happened in the end of 1980s. At the fag end of his ever-green hits of 80s, legendary singer Yesudas took a decisive decision - that he will not sing all film songs that come his way.

One of the reasons was that talented music directors were not roped in for film projects at that time. Yesudas decided to concentrate on Karnatic concerts and avoid singing film songs as far as possible. He also took a stand that for the next ten years he would be singing only for Tharangini, his music company.

It was during this time that Mohanlal started his own film production company named 'Pranavam Arts'.

Music director Raveendran was entrusted with the job of composing songs for a new film that was being produced by Pranavam Arts. Incidentally, the songs composed by Raveendran master till 90s had been super hits.
When Raveendran approached Yesudas to lend his voice for the songs he had composed, the singer was reluctant. "I would only sing for Tharangini and I will not sing under another banner," Yesudas averred.

To this, Raveendran retorted: "If you won't sing, I'll go for some other job. But please at least listen to my tune".

Finally, Yesudas budged. When he began listening to the music, his face brightened. It was after this amazing songs of His Highness Abdullah were born; the song Pramavadavanam needs special mention.
It virtually marked the beginning of a new era. In the next year, the songs of the music-centric film Bharatham, produced by Pranavam Arts itself, also became super hits. The song Ramakatha Ganalayam fetched Yesudas the National award for the best singer. Raveendran master got special mention by the jury for those songs.

The hits born out of Yesudas-Raveendran team in subsequent years later came to known as a genre of classical-based songs that Malayalis would ever cherish. Mohanlal, Sibi Malayil, Lohithadas, Raveendran and Yesudas were part of that era that churned out a number of enthralling songs.