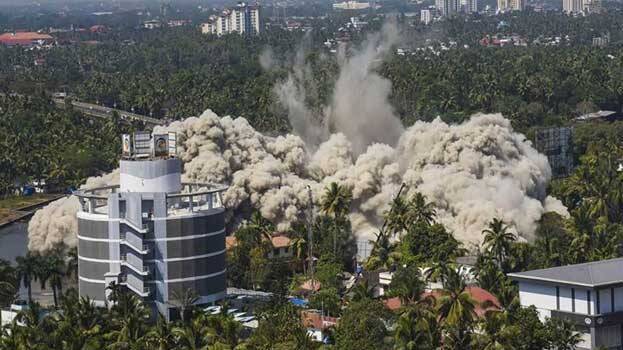 KOCHI: With the demolition of the Maradu flats, the residents of the area have expressed concern on the dust spreading to their bedrooms and kitchen. They will have to wait a little more to return to their homes. Houses and roads near Alfa Serene and H2O are covered with concrete dusts. Dusts have spread to the kitchen and bedrooms of their houses covered with plastic sheets. With this, return to their homes will be delayed.
70000 tonnes of concrete waste have to be removed within 70 days. The residents have now decided to return only after that. Many are staying in rented houses on three months deal. So they will return only after removing the dust completely. Otherwise, there will be many health problems. Prompt Enterprises entrusted to remove the debris said only 45 days are needed for the task.
Many people are already experiencing physical difficulties due to the dust. Dust spread over 200 meters and 50 meters from Jain Coral Cove which was demolished yesterday. When Golden Kayaloram was pulled down, brown coloured dust spread over 100 m and 50 m high.
Preliminary observations have shown that thin dust particles were much higher here. In 30 minutes, the dust settled in both places and returned to normal.