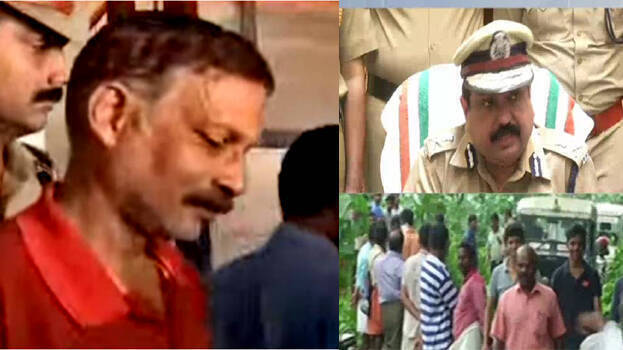 KOZHIKODE: In a chilling incident, a man who allegedly killed his mother with the help of his friend and then murdered the latter to destroy evidence, has been arrested. Police Thursday unravelled the mystery behind the murders that happened in 2017. Greed for money led the accused to double murder in the case related to the findings of body parts from the shores of a beach. The accused first murdered his mother and then his friend Ismail, who helped in killing his mother. Crime branch chief Tomin Thachankari while revealing details of the incident said murdering a murder aide is extremely rare in Kerala.
Parts of a human body were recovered on different days from various places of Kozhikode two years back. On June 28 in 2017 a hand was recovered from the shores of Kaithavalappu beach and days after the second hand was recovered from Chaliyam beach. On July 6th, the body was recovered from Agasthyamuzhi part. The skull was recovered on August 13 from the shores of Chaliyam beach. The police intensified a probe after that. Birju, a native of Mukkam was taken into custody a few days back. His arrest was registered after he confessed to the two crimes. The body of Ismail, Birju's friend was hacked to pieces and abandoned it in a sack.
Birju's father was a land owner in Mukkam. After his death, the assets were given to Birju and his brother. Birju was a spendthrift and lost everything through his extravagant life. He later demanded money from his mother Jayavally. When she refused to give, he arranged Ismail to kill his mother. When he refused to kill her, he with the help of Birju strangled her to death. Later hung her in a sari and made it a suicide.
Birju had promised Ismail an amount of Rs 10 lakh for helping him in the crime. When he came for the money, Birju murdered Ismail in the same house. He first gave him food and liquor and then strangled him to death while he was sleeping on the same bed of his mother.
He kept the body in the house till early morning. He went to a shop near NIT and bought plastic sacks and surgical blades. He came home, cut the body into pieces. Birju did not find any difficulty in doing so as he was an expert in hunting and killing wild boars. He severed the hands and head and placed it in a sack, legs in another one and body in another sack. The corpse was frozen until morning to avoid shedding of blood. He told police that even after doing that, blood was oozing. He later took the sacks in his bike and dumped it in the beach.