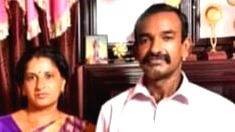 KOLLAM: An ex-military man committed suicide after hacking his wife and son to death. The body of Sudarshanan (57), of Puliyamkonath house in Ittiva Vayyanam, was found hanging along with the bodies of his wife Vasanthakumari (55), and son Sudhesh (25).
According to the police, Sudarshanan was not on good terms with his wife and son for years. Vasanthakumar and Sudhesh stayed in the house and Sudarshanan stayed in a nearby outhouse. They used to engage in frequent quarrels. So the neighbours didn't care to react even after hearing the scream of Vasantha. Nobody came out of the house even afternoon, and some of the neighbours decided to check them out. But the doors were locked from outside.
But there was a strong odour of blood so the people decided to enter the house by kicking the door. The body of Vasanthakumari was found in the hall and Sudesh's body was in the bedroom. There was a pool of blood inside the house. Later, Sudarshanan was found hanging in the outhouse.
The police collected evidence and started the inquest procedures later at night. Sudarshanan's daughter is with her husband in Perumann in Kollam.
Sudhesh is a junior advocate at the Vanchiyoor court in Thiruvananthapuram.