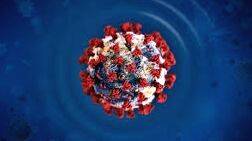 The number of confirmed coronavirus cases in India shot up to 24,506 by Saturday, according to the Ministry of Health and Family Welfare. The death toll rose to 780. In some relief to the public, the government late on Friday night allowed shops, including those located in residential complexes within municipal areas, to remain open at a 50 per cent strength, from Saturday.

However, these relaxations would not apply to areas demarcated as hotspots or containment zones, and shops in marketplaces, multi-brand and single-brand malls located in municipality areas would continue to remain closed until the lifting of the nationwide lockdown.

The worldwide death toll from the coronavirus pandemic has reached 197,245. A total of 2,831,784 people have been infected. US President Donald Trump on Friday suggested a research into whether coronavirus infection could be treated by injecting disinfectants into the patient's body. However, the suggestion was soon rubbished by the medical fraternity on social media.