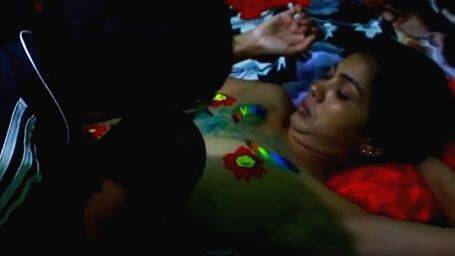 Woman activist Rehana Fathima has bared half her body for her kids to paint beautiful pictures on it. In a bizarre video posted with the caption 'Body art and politics' on her YouTube channel, she can be seen lying down on bed half-naked and her two kids painting colorful pictures on her body.

In the post, she says that it is the video released against fake moral consciousness and wrong concept about sexuality. "When mother is taking rest due to some eye problem, her kids are painting the picture of Phoenix bird in order to make her cool," goes the description of the video
Rehana Fathima says that in this sexually frustrated society, a woman is not safe merely in her dresses. "We have to speak out and expose what a woman's body is and what sexuality is. We can bring change to society only if it begins from home.

Her video has drawn criticism from several quarters, though a few have come out in support of her.
Video- - https://www.youtube.com/watch?v=d3DJMepPxi0