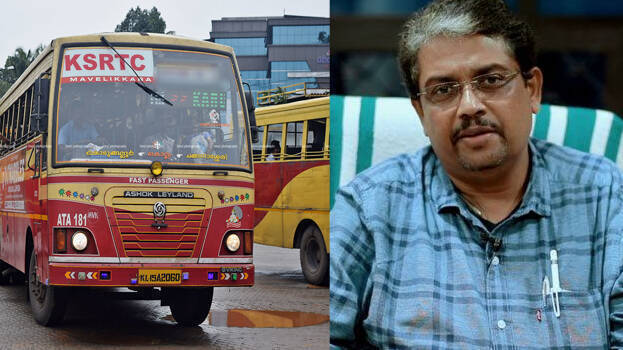 THIRUVANANTHAPURAM: KSRTC MD Biju Prabhakar said that the corporation is going through a serious financial crisis. He also added that even though nobody will be fired, the number of KSRTC workers need to be reduced. KSRTC's public money is being stolen using bogus ticket machines. Irregularities are also reported in buying spare parts for KSRTCs workshops. The KSRTC chief said CNG is opposed so that certain staff in KSRTC can continue to make money by stealing diesel.
The corporation's Rs 100 crore earned as revenue during 2012-15 period is unavailable. Action will be taken against Sreekumar who was the accounts manager at that time. As of now, Sreekumar is executive director. Subsequent action will be also taken against another executive director Sharaf. 22,000 staff will be reduced in the first phase and later it will be reduced to 15,000 and to 10,000 further.
Among the staff, 7,090 persons are looting money by giving old tickets. These are all part of the attempts to help private transport companies. Biju Prabhakar also made it clear that in the coming three to five years there will be a total change in KSRTC.
Since the appointment of Biju Prabhakar as the head of KSRTC, it is the first time that he is making such harsh criticisms on KSRTC employees. "The corporation is suffering under heavy debt. The decision to sell and give the property on lease was taken to overcome the debt. In the name of formation of the new company, KSRTC won't be bifurcated," Biju Prabhakar said.
Many changes were witnessed in KSRTC since Biju Prabjakar took charge as MD of the corporation. Meanwhile, his remarks on the employees will invite the wrath of employees union in KSRTC. His statement comes after the months-long cold war between his office and the employees union.