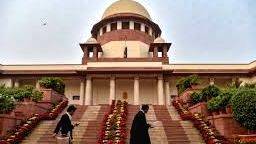 Not only in Kochi, but anywhere in India, the largest number of law violation is happening in the field of construction. The Supreme Court's order to demolish five huge flats that flouted coastal zone regulation act has been a shocking one for many. Though, in these five flats, there are about 500 apartments, most of them have been earned by affluent NRIS spending about one or one and a half crore rupees. However, the court doesn't say anything about rehabilitating flat inmates or their compensation.
Startled and embarrassed by the Supreme Court order, they are getting ready to approach the court to find a way out of this legal trap.
There has been no limit to the bribery and irregularity that have been going on in the area of construction from time to time.
Certain building complexes that face demolition threats can be seen touching water bodies, which goes against Coastal Regulation Rules.
When courts come down heavily on such blatant violation of rules, it should not be depicted as court excesses or court activism.
The law will become strong and relevant when law violation are dealt with iron hand. That circle is complete when those who sided with law breakers are also punished.