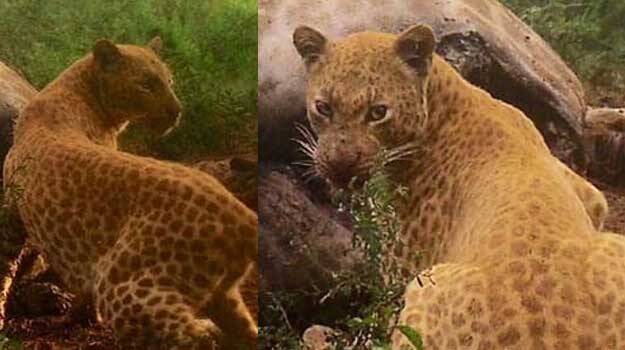 LYDENBURG: Humans are always excited to learn about the wild and wild animals. World of science is behind such a mystery. Photos of the extremely rare erythristic leopard have surfaced which gave nature lovers something to roar about. It's the photo of a golden leopard that was caught on a surveillance camera at a wilderness conservation reserve in Thaba Tholo in South Africa.
The conservation reserve has camera traps all around the area, which are monitored on a monthly basis. Upon looking at the footage of the camera after a month, the owner of the reserve was surprised to find footage of the leopard. The leopard was eating a giraffe when the camera caught its photo. The leopard had a dark yellow color which clearly differentiates it from a normal leopard.
The colour variation of the animal is caused by a mutation in its genes. A leopard with this colour is born when two leopards with the recessive erythristic gene mate.